Top Watches
Find the best wrist bling this season below.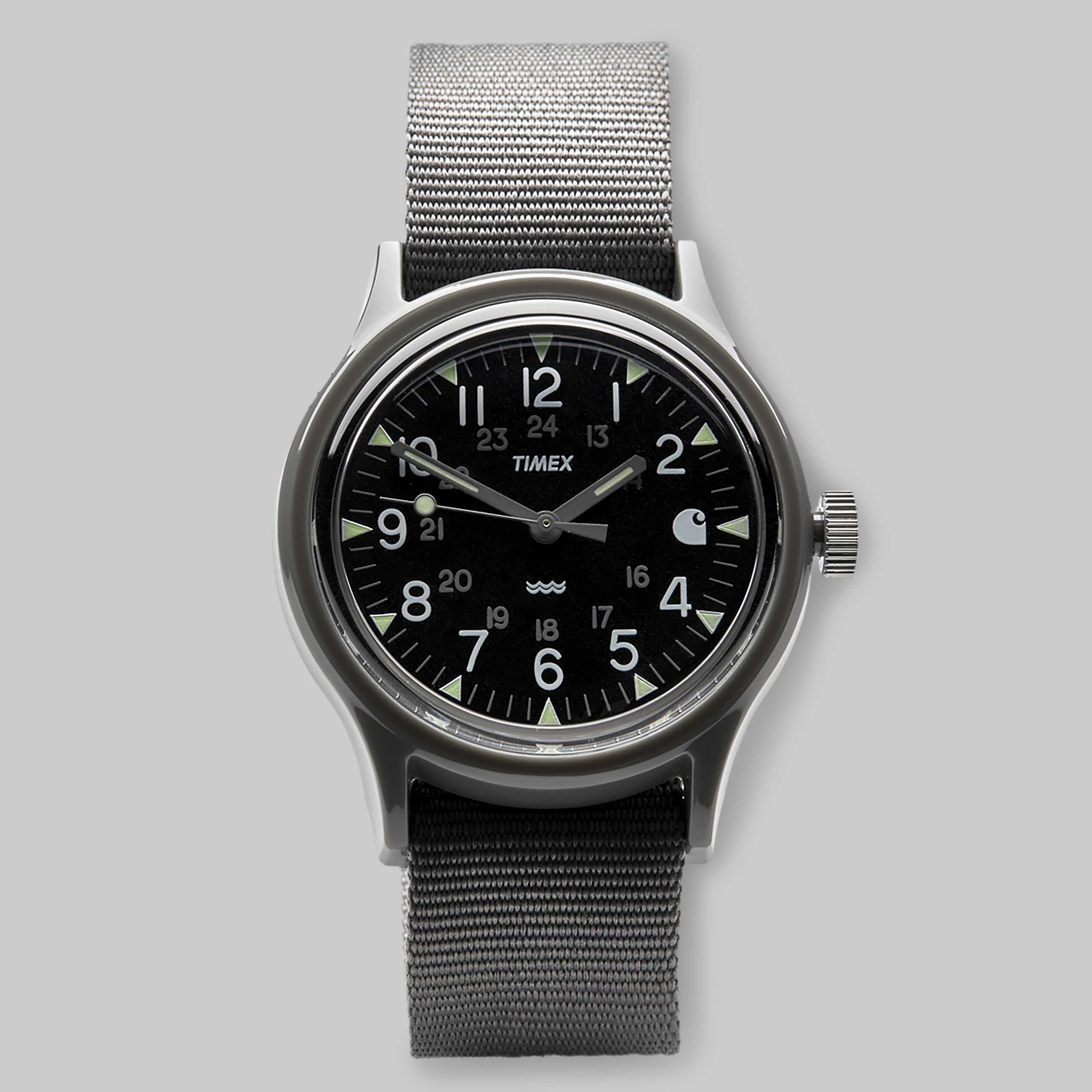 Timex x Carhartt WIP
£90
https://www.carhartt-wip.com/en/men-gadgets/watch-grey-74_1
The Camper MK1 is a 'civilian', design-led polished update of the 80's watch originally adopted by the US Army for its functionality and durability. The utilitarian, innovative style is an undeniably perfect fit for Carhartt WIP products that focus on performance and are purpose-built for hard work. The Camper MK1 celebrates the timeless value of an authentic, sustainable timepiece and pays homage to the military-grade equipment that has been creatively shaped and defined by Timex since 1854.
End. X Timex
Allied Chronograph 'Blackout'
£139
https://www.endclothing.com/gb/end-x-timex-allied-chronograph-blackout-twg020000.html
The Timepiece Project .02 returns for the second phase of their collaboration, refining the Allied Chronograph and reflecting the rugged military heritage of TIMEX in a stealth, all-black case. The watch provides endless versatility as tri-strap options include END. branding, a luxurious leather or a flash of either mint or orange to make for striking yet sleek wrist-wear. END. x TIMEX tweak a classic timepiece for a contemporary audience, whilst honouring 160 years of watchmaking.
Raymond Weil
Parsifal
£1,295
https://raymond-weil.co.uk/product/parsifal-mens-quartz-classic-white-dial-bracelet-watch-41mm/
The Parsifal, first launched in 1991, has the elegant aesthetics of the original watch have been carefully distilled into a new timepiece, suited to a modern-day audience. Richard Wagner's last opera, Parsifal, provides the inspiration for this latest collection of sophisticated Swiss watches. the Parsifal is available in a two-tone finish, pairing stainless steel with 18-carat gold, bestowing the model with a sumptuous appearance. The collection is extensive and consists of five men's models and six ladies' watches.
Versus Versace
Kalk Bay
£190
https://www.versace.com/gb/en-gb/versus/men-accessories/watches/navy-kalk-bay-watch-pnul/PVSP0502-P0018_PNUL.html?cgid=1250000#start=1
Bold in it's size, casual and stylish in its feel, the Kalk Bay catches the eye with its geometric dotted pattern, and is inspired by a sporty aesthetic. Standing out on the dial are the large date display and the Lion relief at the logo, that give thewatch its Versus Versace identity.
Ferragamo
F-80 Motion Watch
£1,020
https://www.ferragamo.com/shop/gb/en/men/jewellery-watches/timepieces-men/f-80-motion-watch-678211–24
This Swiss watch connects via Bluetooth to iOS and Android devices and has a cloud function for backups. It can also track activity and sleeping patterns and has 2+ years battery life.