Seagate FireCuda Gaming Dock review
Turn your gaming laptop into a desktop with 4TB of storage. It's even better than it sounds.
For the sake of simplicity and flexibility, many turn to gaming laptops as a solution. There are more of them available on the market than ever before, and their performance can often rival even the most capable gaming desktop. On top of that, their portability gives them an incredible advantage over desktops. Whether taking them on the road or just into another room for a bit of variety — a welcome reprieve in this era of mandatory work from home so many of us are experiencing — a gaming laptop can allow us to un-tether without leaving our games behind.
The downsides of relying on a gaming laptop are just as apparent as the benefits: laptops are not modular in the way PCs are. Upgrades can be difficult or altogether impossible. Even something as simple as upgrading storage may not be feasible for many gaming laptops, meaning you may end up getting stuck with the storage options you chose at the time of purchase no matter how much space new games take up.
The solution: Seagate's 4TB Firecuda Gaming Dock. Part external drive and part docking station, the Firecuda Gaming Dock is an essential tool to get the absolute most out of your gaming laptop. It's really an upgrade path for your laptop, as it is itself upgradeable, and it will greatly expand your laptop gaming horizons. It doesn't hurt that the form factor and built-in RGB look incredible, either.
 Considering most gaming laptops come with around 500GB of storage, this is an exceptional upgrade — especially if you dedicate the storage to games. You may be concerned about running games off of an external drive, but the 72,000RPM HDD connected to the Thunderbolt 3 proved to be even faster than the internal HDD on my HP Omen. Games like Modern Warfare and Microsoft Flight Simulator 2020 boot faster and have shorter loading screens on the dock than they did when they were installed on my internal drive. If you really want an impressive upgrade, the Gaming Dock has an M.2 NVMe slot where you can add an SSD, the fastest type of storage available today.
While plugging in and setting up is straight-forward, you'll need to account for cable management in a way you probably haven't considered before. The docks isn't meant to sit on the floor like a desktop and the laptop doesn't "cradle" on it like traditional productivity docks, so you may have to get a little creative about where you put it and how you hook it up. I decided to get a riser for my monitor with two shelf slots. The dock stays on the bottom shelf while my laptop slides in and out of the top shelf. This works fairly well, though I occasionally lose the Thunderbolt cable behind the shelf in between uses and have to fish it back out. You may be better off just finding a place to put the dock on your desk, but either way, it will have 5-8 cables running out in different directions.
Installing the M.2 drive is a breeze. With the cap removed, you'll find a hard metal plate covering the slot with two screws to hold it in place. Removing the plate reveals a single PCIe 3.0 four-lane M.2 NVMe SSD slot. With four lanes, that means it's capable of delivering theoretical read speeds around 3.5gigs per second, and write speeds of 3.2gigs per second. The cover itself has a thermal pad on it to keep the M.2 drive cool during operation. I placed a 1TB FireCuda 510 M.2 drive into this slot to test out the throughput via the Thunderbolt 3 connection.
The first time you connect the dock to your laptop you'll be prompted with a registration tool, as well as an initial configuration of any backups. The drive also supports the full gamut of RGB lighting, as well as three presets and three custom settings with multiple colors. I find that the red setting made the whole affair at least 10% faster.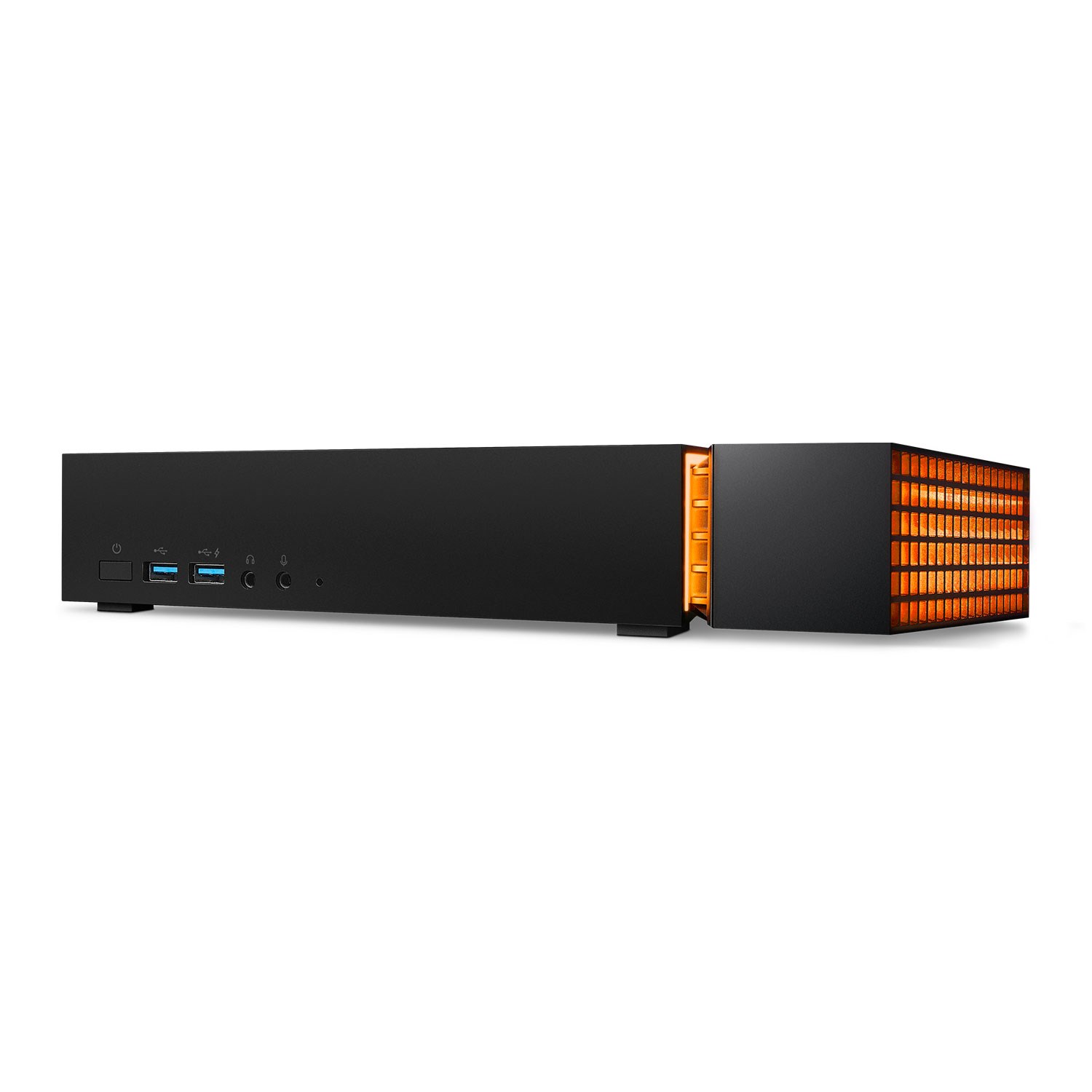 Even with the Thunderbolt 3 port bottleneck, the FireCuda 510 M.2 drive is more than fast enough to handle heavy-streaming open world titles like Assassin's Creed Odyssey and Death Stranding. I saw a solid decrease in loading speeds across the board. I also found another appropriate use for the drive setup — my video workflow. I use Adobe Premiere Pro CC, and frankly…it's a pig. It'll use every bit of speed you'll feed it, so I used the M.2 drive's read and write speeds to handle all of the video scrubbing and renders. Knowing that I may need to make adjustments or re-render objects, I then flowed the raw assets to the IronWolf drive for long term storage. It keeps my laptop clear for games, while keeping work segregated onto the dock — a welcome separation.
Powered by an IronWolf NAS drive and an NVMe expansion slot, this dock is a fantastic high-speed hub for any Thunderbolt 3-enabled laptop. It can provide all of the connectivity you need for multiple monitors, Ethernet, USB 3.1, and more, all while remaining whisper silent and with as much or little RGB as you'd like.
https://www.seagate.com/gb/en/consumer/play/firecuda-gaming-dock/