Roccat Kone Aimo – review
The ultimate gaming mouse.
The best gaming mouse we've tested this year. Using the Roccat Kone Aimo made gaming (Fortnite, obviosly) a dream.
Available in a black, grey or white chassis, the Roccat Kone AIMO Gaming Mouse retails around £50 in the UK.  The German design oozes lovely ergonomics that ensure the mouse fits beautifully in the palm of your hand.  With 10 years of refinement since it's original iteration, the technology that it is boasting "under the hood" is leagues ahead of where mice used to be.
The price is instantly justified the moment you remove it from its packaging, with the sharp design, soft feel and one of the nest RGB placements we've seen in any product, let alone a mouse.  Weighing in at 130g and with a 1.8m braided USB cable this RGB multi button machine will suit any pro gamers desk.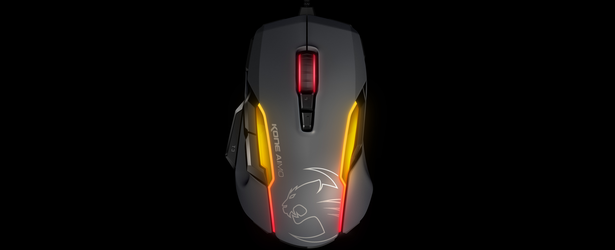 The Roccat Kone Aimo has 10 programmable buttons or gestures in additions to the standard left and right buttons. For example, the scroll wheel doesn't just depress, it leans to the left and right too. There's a solid click to each movement.
All of these features are programmed using the Roccat Swarm app, available for Windows.
The default roles for these buttons are sensible. Two little buttons behind the scroll wheel let you alter dpi sensitivity on the fly, handy if you want to use different settings between the desktop and a game. A pair of buttons above the thumb groove are used for back/forward in the browser.
The 4D Titan Wheel allows control in 4 directions thanks to its advanced tilting tech however the game changer for me is the ability to change the mouse sensitivity at the press of a button.  Trying to get that game-changing sniper shot? quickly adjust the dpi of the mouse using the 2 buttons below the wheel which will change the dynamic range of the Roccat Owl-Eye Optical Sensor under the mouse.  Ranging in steps from 100 DPI to 12000 DPI if required, the tech is completely user adjustable to ensure you reach perfection in your gaming play.
This mouse truly does help you be a better player, whilst looking amazing. It's available now from Roccat here
Keep an eye out for our review of their latest gaming headset next week!