Joule – Sous Vide by ChefSteps
This slick Joule sous vide machine is easy to use, mainly due to the video-guided cook-a-long recipes from ChefSteps, turning an amateur Cook into a Chef.
After downloading Joule's app to your phone (iOS & Android are both available) simply connect the Joule to your home Wi-Fi network through the mobile app, and get ready to start cooking in minutes.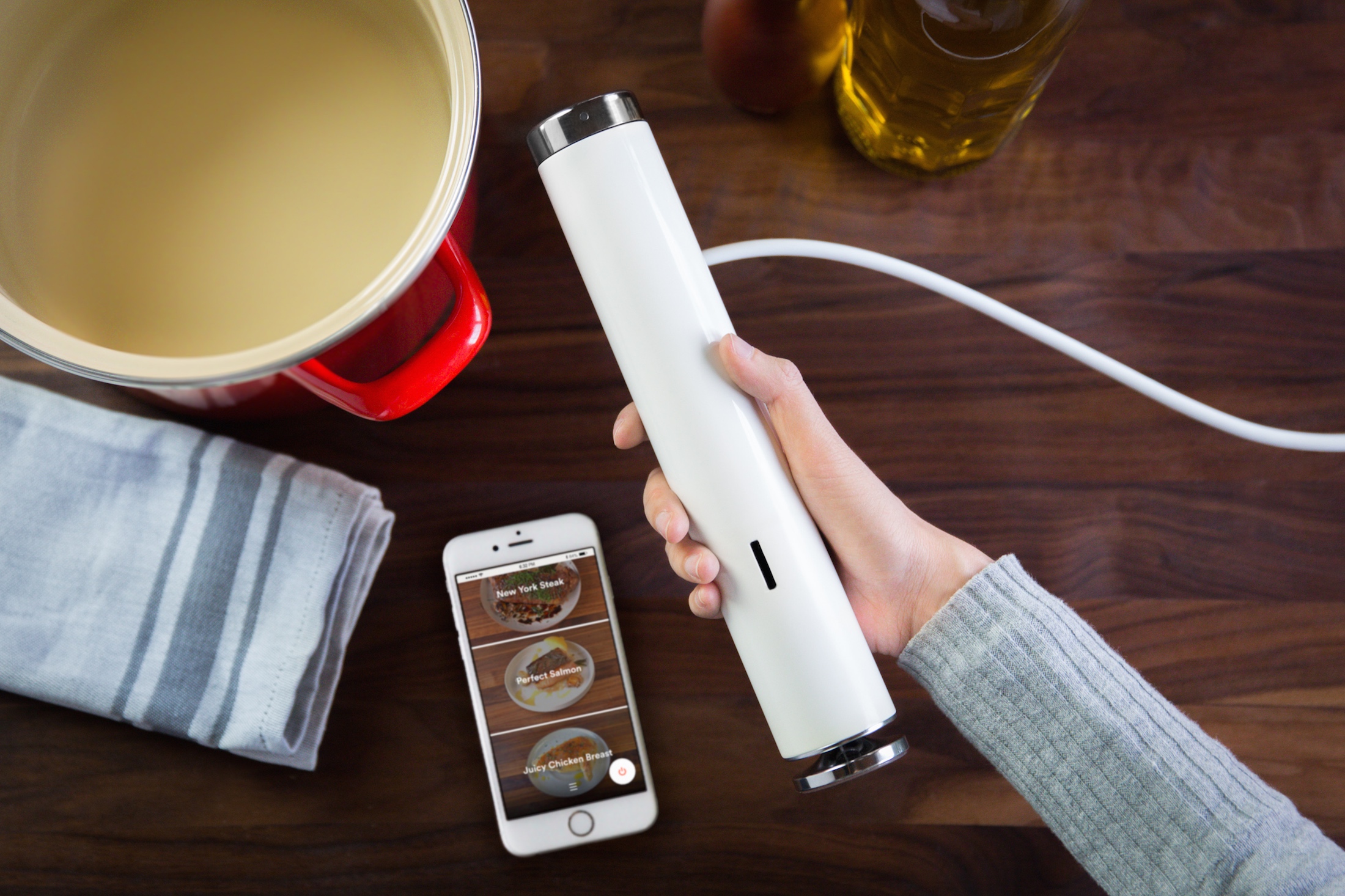 Sous vide cooking — the technique in which you prepare a meal by submerging bag-sealed food into a hot water bath — Sound complicated, right? However, with Joule's sous vide it becomes simple, quick and the outcomes are spectacular.
You just choose how you want the end-product to look, have the list of all the ingredients right in front of you.
Choose the cut you want – then select the temperature based on what you want the final product to look like. Medium rare steak? just select it, and relax. It will effortlessly cook an endless amount of ingredients to your preferences.
The ability to check in on how it's doing, if it's done, and how long you can safely leave it after it's done without it spoiling the end result is also a godsend.
The images and videos let you choose easily how you want the final product to look. Unlike a recipe book, the desired selection on screen is exactly what comes out of the pan!
If you're like me and only comfortable with cooking certain foods as you're scared of overcooking or burning, or even worse, under-cooking this is the tool for you.
Another plus is the size (or lack of) it easily slots into any drawer, ready to be used at will. If you're worried about other equipment, don't worry Joule will work with almost any kitchen pot or pan. In fact, you can use Joule in your kitchen sink…
Here are a few features 
Smallest, sleekest sous vide tool available: just 11 inches tall and 1.3 pounds. So small it fits in your top drawer.
Fastest water-heating capability on the market, with 1100 watts of power and hyper-exact temperature control—accurate to 0.2 °F / 0.1 °C.
Controlled by a free mobile app, compatible with iOS and Android. Includes dozens of tried and tested ChefSteps recipes and detailed sous vide guides for curious cooks of all experience levels.
You can get yours on Amazon here
They also have lots of recipes and tips on their YouTube