Duolink Speakerbuds launch
A transformable music player designed to instantly adapt to you. By switching between wireless earbuds, a portable speaker, and dual speakers, you can now enjoy music in any way you want with only one device.
Duolink has just launched its SpeakerBuds' speaker and True wireless earbud hybrid, providing anyone who loves music or immersive movie sound effects with the perfect Christmas gift.
The three-in-one compact device combines earbuds, main speaker and two stereo speakers – ideal for anyone who wants to listen to music while travelling over the festive period or who may already be planning how they'll tune into their New Year's fitness resolutions.
Small in size, big on longer-lasting sound
Offering immersive sound and seamless transition from Party to Duo or Solo modes, Duolink SpeakerBuds weigh less than half a pound so they are small enough to carry in a pocket but, with 6 watts of audio output, they're also big on sound.
Fully-charged in just 90 minutes, Duolink SpeakerBuds' battery life is extended thanks to embedded earbud chargers in the speaker providing up to 9 consecutive charges, so you can jam out for longer. And, with wear detection, no battery is wasted as the earbuds automatically stop when you're not wearing them.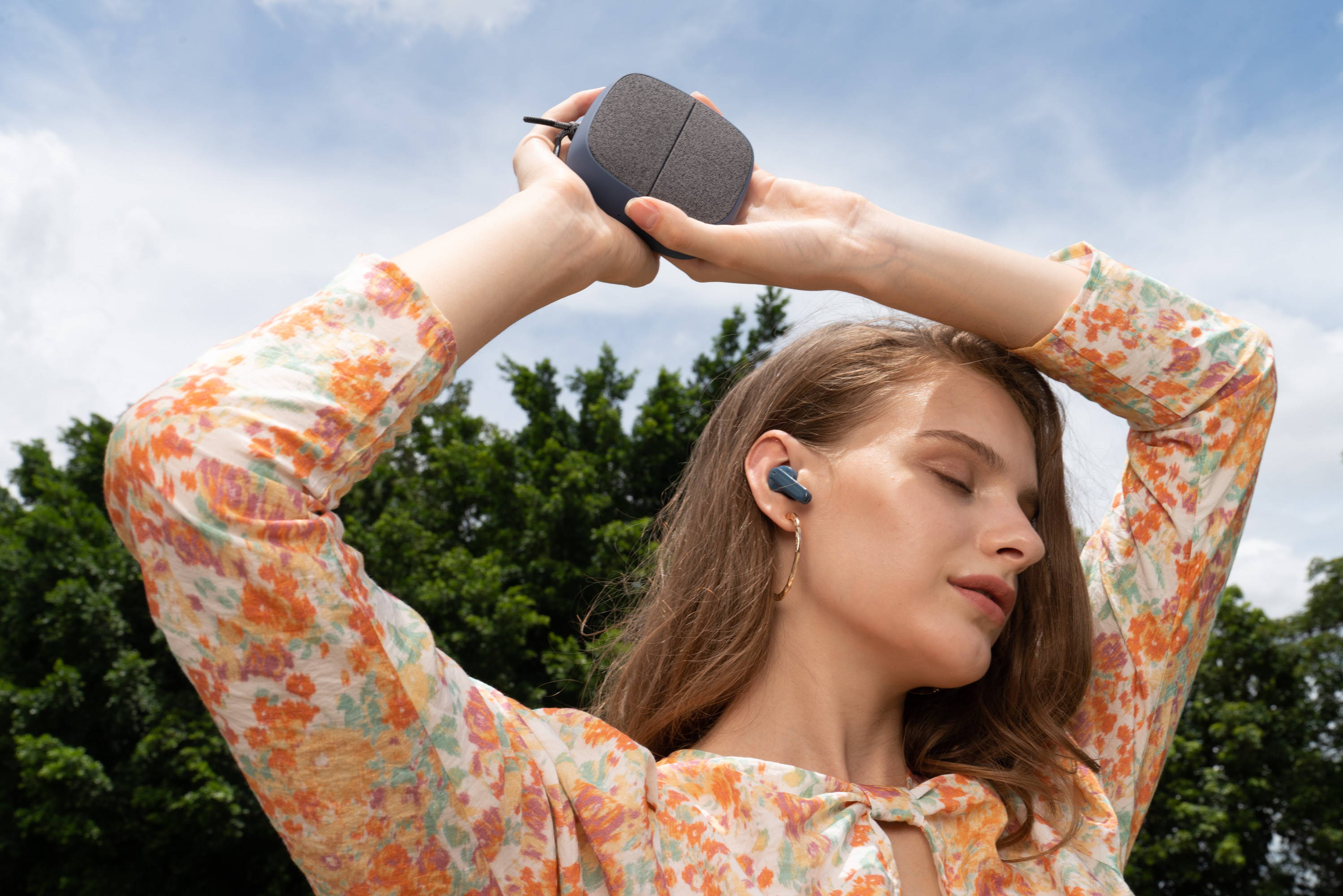 Crafted for comfort
Whether you're out running, watching movies on a train or working from home, Duolink SpeakerBuds' comfortable oval-shaped earbuds are snug enough to wear all day and can simply be slotted into the top of the speaker to transfer the audio in less than a second, with zero lag. They even have Intelligent touch control so you can simply slide up and down to adjust the volume, rewind your music, pick up calls and more.
Portable, stable audio for at-home cinema and/or party
For anyone wanting to set up their own at-home mini stereo to engage in festive flicks, Duolink SpeakerBuds can be split in half – from a single full-bass speaker to sharing the high-quality sound on both sides of a room – to create an at-home cinema effect soundwise.
Duolink Speakerbuds' speakers have the latest Bluetooth 5.0 connection, providing ultra-stable audio via your mobile device without any drop and allowing for it to be shared up to 22 feet, plus an AI noise-cancelling mic for incoming calls and be heard clearly even in the midst of a party.
Designed to put the party in your pocket, Duolink Speakerbuds are a compact and discreet water-resistant (IP54) portable music player, with top-notch acoustical engineering, giving you the perfect sound wherever you are and however you choose to use them.
Available in red, white and navy blue colour options, Duolink Speakerbuds are only $149 and can be bought here now: https://duolinkgo.com/products/duolink-speakerbuds