CRANE-M2 by Zhiyun
ZHIYUN brings a new handheld stabiliser designed for multiple devices for users of all levels. Featuring a more easy-to-use quick setup system and smart lock design, as well as six creative operation modes, CRANE-M2 easily goes wherever you go and offers endless possibilities to your everyday creation.
Choosing a gimbal is a bit of a minefield. There are a lot of brands out there offering gimbals that work with various different cameras so, on top of trying to find the right gimbal brand, you also need to choose a gimbal that works with your camera, and then you have to ensure it has all the features that you want too.
Designed with a host of balancing options, the Zhiyun Tech Crane M2 can work with multiple devices. It features a unique quick release plate that enables users to remove their camera and then put it back on without the need of rebalancing or recalibration. That's damned impressive. The plate comes with a scale mark and positioning memory system that enables the Crane 2 to rebalance in just a few seconds.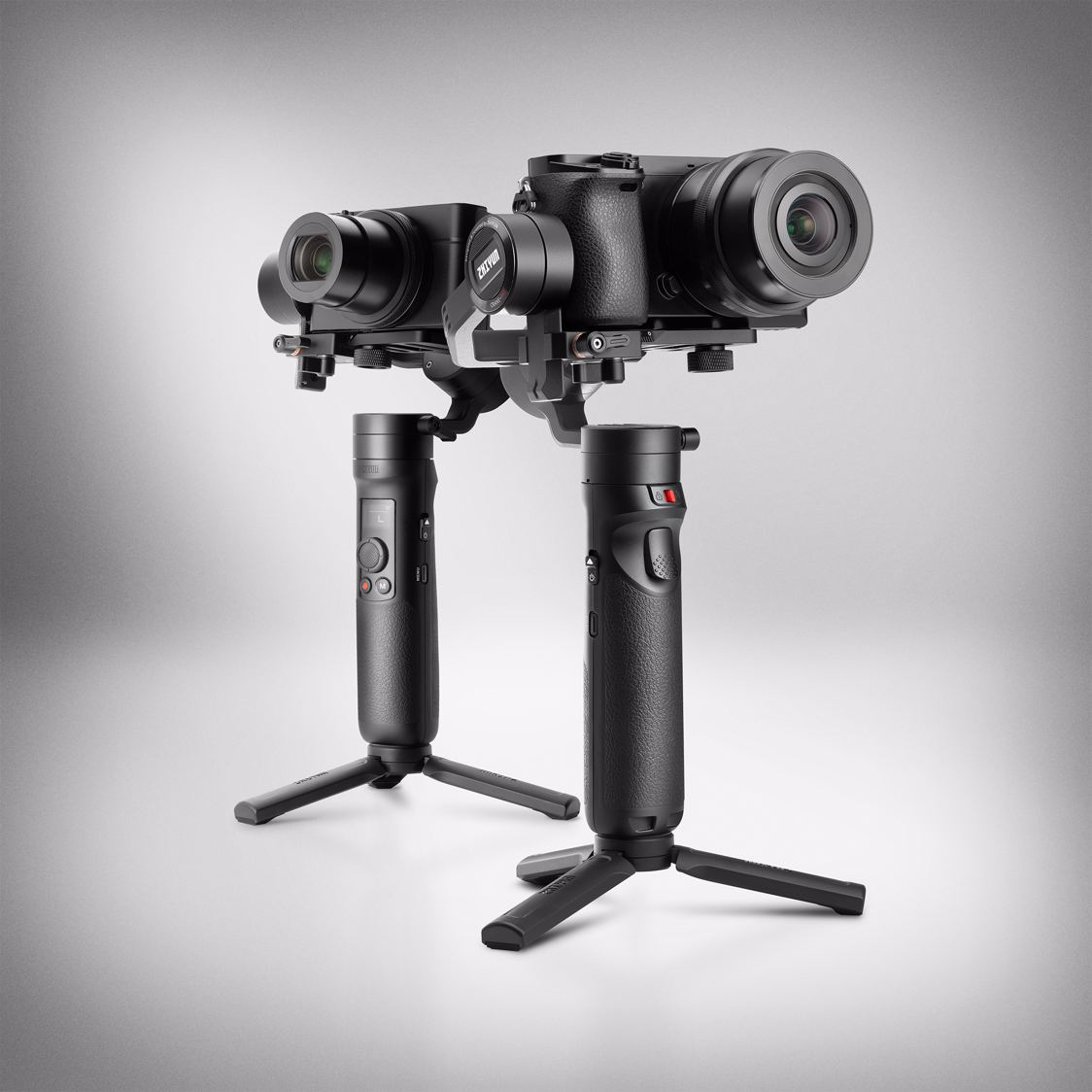 The Crane 2 has three basic modes, including Pan Follow (PF), Follow (F) and Lock. There are also advanced modes including Full-Range POV for 360° synchronous movement on all three axis, Vortex mode for doing the barrel shots that have become very popular in creating transitions from scene to scene in online videos, and Go Mode that enables users to fast pan and tilt during fast-paced action scenes or when covering live sporting events.
Zhiyun is a Chinese technology company that has been releasing gimbals now for a few years. The brand started with smaller mobile phone type gimbals, but over the years has increased it's range to include full-size, full-feature products that rival DJI's Ronin.
Users can also control the Crane M2 via a smartphone connection, giving them the option of remote filming with the ZY Play app, when the filmmaker finds themselves' in the scene. There are also other advanced features including time-lapse, panorama, and vertigo shots like the ones made famous by filmmakers like Alfred Hitchcock and Steven Spielberg, where the came dollies out while the lens zooms in. 
Depending on the camera that you set up with the Zhiyun Crane M2 you'll also have remote control capabilities and from the handle, you'll be able to shoot video, photos and even control the zoom. This does all depend on your camera though. 
Zhiyun has also made the Crane M2 more compact, without sacrificing the load carrying of their gimbal motors. There is a comfortable, ergonomic handle with control buttons, WiFi and Bluetooth control, and an OLD Display that will show the user the active mod, battery level, and other parameters. The Crane M2 also has a unique pin and latch design, which will lock down the gimbals and keep the axis' from flopping around during transport. That was one of my complaints on older gimbals. 
Lastly, the Crane M2 has 1/4 -20″ threaded holes built into the handle itself, so users can add an external mic, video light, or lightweight video monitor without the need to rebalance the camera gimbal itself or add any counterweights. Battery life is rated at up to 8 hours, and the Crane 2 can not only power your camera, phone or other devices, but it can also be powered by an external power bank while in use.
The Crane M2 is packed with a lot of great features and is far and above what Zhiyun Tech has done with their smartphone gimbals in the past. But I think the best feature it has is its flexibility.
The only stabiliser you'll ever need. https://www.zhiyun-tech.com/cranem2/en